Cours du lundi 7 juin
1. Passage à l'oral sur SAVE OUR PLANET (tâches finales – 20 minutes)
2. Pendant ce temps…voici ce que tu dois faire
Voici les 3 documents sur lesquels tu vas travailler aujourd'hui sur le thème de « Segregation in the USA ».
Tu devras être capable, en fin d'heure, de passer à l'oral devant la classe pour présenter ton travail en anglais. 
–> Voici les documents que tu dois lire/comprendre.
Document 1.  (voir directement sur le sujet)
Document 2. Les lois de ségrégation de l'époque. >>  Jim Crow Laws.
Document 3 (audio)  Ecoute cette interview et ce témoignage d'une personne victime de la ségrégation raciale aux USA à cette époque.

–> Voici les activités à faire correspondantes aux 3 documents en cliquant ici >> clique ici
Cours du vendredi 11 juin
1.Correction document précédent. –> Document de travail – CORRECTION
2.Video : the history of segregation in the US
3. From salvery to Obama –> Afro-Americans timeline  >> the_fight_for_equality – timeline
Exercise 0   Exercise 1    Exercise 2   Exercises 3
3. GEOGRAPHY ! The American States –> Exercises     Exercise 2
Cours du lundi 14 juin
1.Read this poem and react
2.Do this exercise about segregation –> click here
3. Watch this video to find out who Rosa Parks really was.
4. Listen to this tribute song to Rosa Parks  (Sister Rosa – Neville Brothers)
Do this activity while listening –> Work on lyrics
FINAL TASK 
Read this ACROSTIC POEM.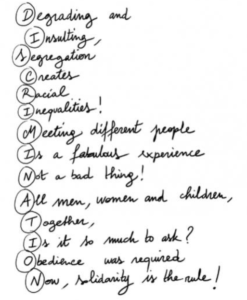 Choose another WORD related to SEGREGATION and create your own acrostic poem.